When you are looking for a contractor who is reliable and knows the intricacies in their field, you should contact our company. We are a cleaning service provider that operates in London and we are also hard-working and have budget-friendly prices. All prices are considerate and depend on the type of service that you receive. Our cleaning services are available to residential and commercial customers. Our teams have been trained to efficiently deal with any job. Carpets are a big part of the interior of any house. They can bring cosiness and warmth but many of us overlook the fact that they also collect a large amount of dirt, hairs, dead skin
and grime. An unclean carpet may not only make your house appear dirty but also cause many health issues – Kawasaki disease, skin irritations, allergies, breathing issues and many others. In order to prevent those, one should regularly clean their carpets. Usually weekly vacuuming is not enough to get rid of all stains and dirt found in your carpet. We suggest deep cleaning of carpets and upholstery every 6-9 months. This way you will keep them clean and good looking for longer, as well as, disinfected and safe and most of all you will prolong their life.
From £4
Book Now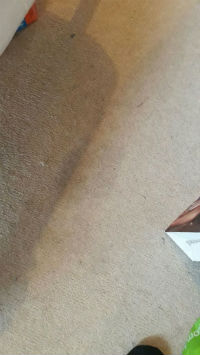 Carpet cleaning is our forte and our teams are qualified to deep clean all types of carpets. They will vacuum and precondition them if they deem it necessary.
Then they will use our professional steam cleaning machines and will leave your carpets sanitised and renovated. Leave the battle against germs, bacteria and stains to our experts.
The reason why carpet cleaning should be performed by professionals is all detailed specifics of the process that have to be taken into consideration.
It is really important to know the type of materials you work with, as well as the fabric of the carpet. This helps with choosing the correct product and cleaning technique. The incorrect treatment of a carpet may damage it forever.
Our cleaners are highly experienced in the field and come with a wide range of cleaning solutions. They are able to handle any stain on any type of carpet.
We mainly use two types of carpet cleaning methods: Steam and Dry Cleaning.
Steam Cleaning is the cleaning technique we use most often. It is extremely efficient against dirt and stains and leaves your carpets spotless and disinfected. This technique uses hot steam extraction ( up to 130 degrees), as well as professional cleaning solutions. The cleaning products are specially chosen for the particular type of carpet that you have. This way the cleaning technicians are able to properly clean the surface of the carpet without
causing any damage to it. Here is the whole process in steps :
The cleaners come equipped with all tools and products and examine the carpet in hand. They run multiple tests to determine the type of fibres and the materials that your carpet is made of. This helps them pick the best product and avoid damaging the surface.
The whole carpet is thoroughly vacuumed, removing all loose dirt, dust and small particles that might affect the cleaning process that follows.
The cleaning solution of choice is applied to the areas of the carpet that are stained or dirty. The chemicals in the product will help dissolve the dirt and stain composition.
The steam cleaner is used all over the carpet. The temperature and pressure of the steam are regulated, depending on the type of carpet that you have. The hot steam is able to fully dissolve all dirt and remove stains at 100% success rate.
The carpets are deodorised and the technicians extract most of the moisture, in order to speed up the drying process.
Dry Cleaning is the method that we go to whenever the carpet in hand cannot be treated with hot water or steam. Judging by the name, you can understand that this method does not involve a lot of moisture and by the end of it, your carpets will be dry. However, the cleaning process does take a bit longer. The dry cleaning solutions that we use can be in powder or foam form. Their chemical composition is able to dissolve the fat and grease in the stains, since this is the component that makes dirt stick to your carpet fibres. Here is the process in steps:
The technicians come with everything needed and examine the carpet. This way they are able to pick the correct solution to treat your particular carpet with.
The whole surface of the carpet is vacuum cleaned thoroughly. This step is crucial, since any loose dirt or dust may cause further staining.
The cleaning solution of choice is applied to the whole surface of the carpet. It is left on for a couple of hours. In this time the chemicals in it are going to completely dissolve and absorb the dirt from your carpet.
The solution, along with the dirt it absorbed, are removed with the use of a rotary machine with cotton pads, soaked in water, placed at the bottom of it.
Unparalleled Carpet Cleaning Services in London
Our carpet cleaning services are practical and versatile and can safely and efficiently clean any type of carpet. Our teams are trained, equipped and savvy in carpet cleaning. We tailor our packages according to your needs. Our service will fight soil, grime, dust, various spots and stains, and bacteria and allergens.
We will onl use non-toxic, biodegradable cleaning products and modern steam cleaning machines for the purpose. And we can also deodorise your carpets and apply a scotchgard protector upon your request. This will keep your carpets clean for longer and prevent any spills from soaking deeper and becoming permanent.
By choosing Happy Cleaner you can also benefit from:
Professional tools and products included in the price
Highly experienced professional cleaners
Flexible working hours for your convenience
Customer service 7 days a week
Affordable prices
Only eco-friendly and non-toxic products used
Free quote over the phone
All services and employees 100% insured
Whenever you feel like you need help with the cleaning chores at home, give us a call. We are able to provide all services 7 days a week for your convenience. The office agents will help you book a service and answer any questions you might have. Trust us on this one-cleaning is what we do best.
For a perfect end of tenancy cleaning service with an inexpensive price in South East London – call our company right away and take advantage of our service.
Fill our form for a free instant quote or give us a call! Our phone: 020 3745 8168